The
Mardi Gras
kit from MT Lane Designs is another full size kit that I scripted down to tag with. I would almost call it a mini kit based on the elements (3 beads, 3 doubloons, 5 frames, 1 mask, 1 wine bottle, 1 wine glass & 1 word art), but you also get 11 papers, plus the Alpha which includes numbers 0 through 9 (but no symbols).
Personally, I think the Alpha is what makes this kit worth having. It's hard to find Mardi Gras alphas, although Southern Scrapz did release one with her Mardi Gras kit.
Both of these first two tags use posers from
Billy at PSP Tube Depot
.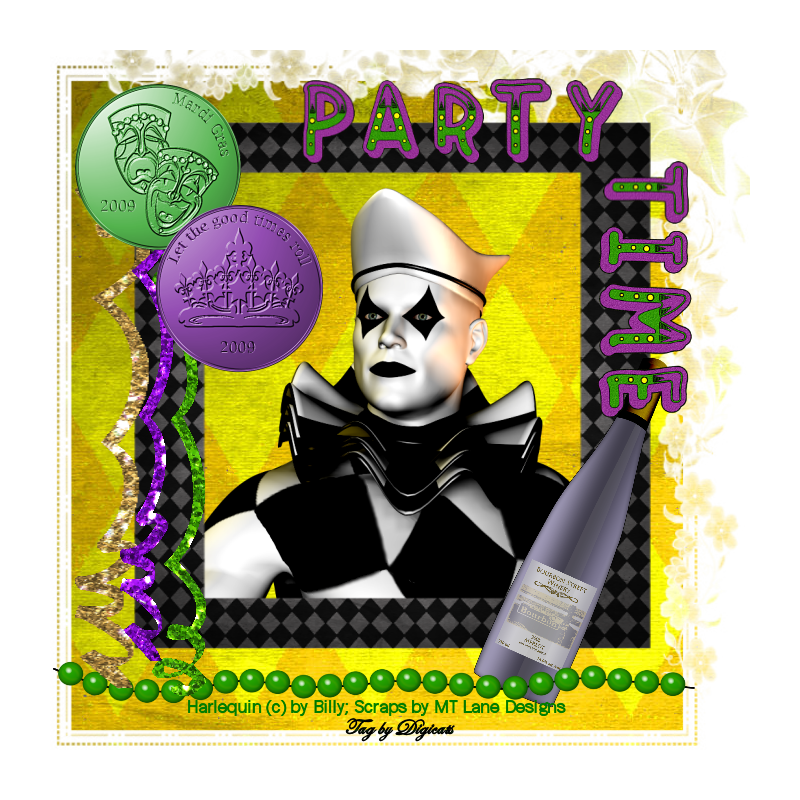 The glitter streamers were something I created for use in the tag. The paper mask is from
Wee Scots Design
, as is the one in the following tag.
On the whole, and despite it being a very simple layout, I thought it turned out quite nice.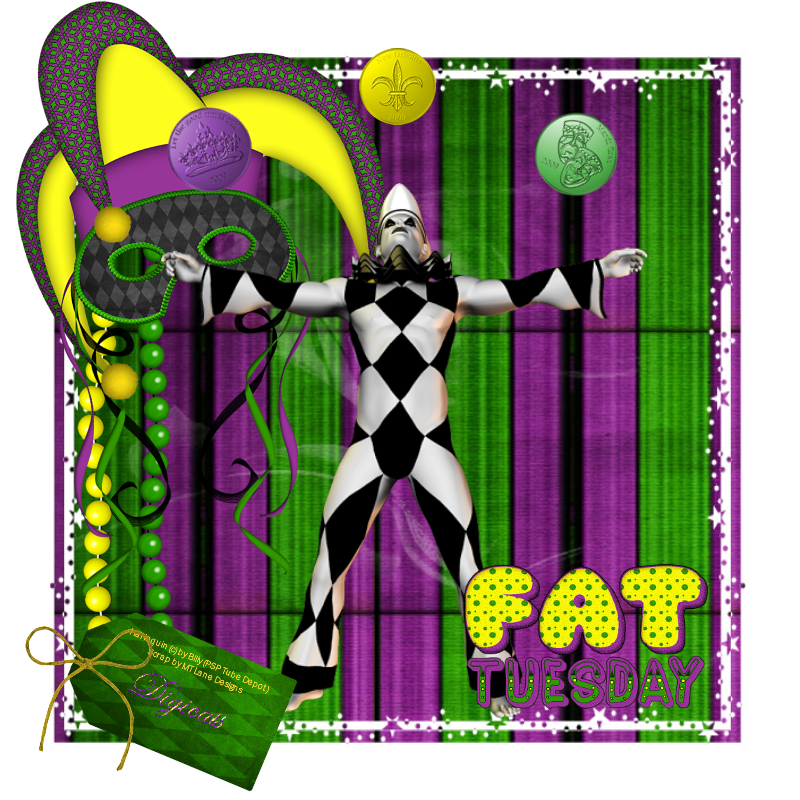 I like the jester's mask and several of the papers are very nice as well. The "label" was another creation, using another of the backgrounds, while the string tie is courtesy of the
Scrappin' Cop
.
Again - another reasonably simple and straight forward layout that worked quite well.
Of course, the best part of the Mt Lane Designs kit it the $0.00 price tag!
Of course, no one wears that mask quite as good as Khyra does. Most of the scraps for this tag came from the
Carnival
kit from
Ivory's Designz
. The Doubloon and the Jestermask are from the MT Lane Design kit.
For Marylin's tag, I used scraps from the
Mardi Gras
kit by
Scrappy Weiss
. I have to say, I was not all the impressed with the kit and once I'd finished with the tag, I deleted the kit. I have it on disk, should I ever change my mind, but in all honesty, it wasn't that good. The hat Marylin is wearing came from the
"Carnival"
Kit from
Saxonia44
. That's another kit that went into the delete bin once I'd finished with Pawti Gras.