Now that we've gotten through the more complicated stuff....
Cocoa
I swear, sometimes, when I'm doing these, the cats talk to me. In this case, Cocoa was SCREAMING in my mind about how dare I take her off the nice warm heating pad she was sitting on and plop her down into a snow bank. Don't you dare do that...don't you dare....
It's a good thing she lives in California.
Good snow banks can be found in the
"I Love Snow"
kit by Candy's Treats, which also provided the
"Icy Snow Font"
alpha for the name.
The reindeers are courtesy of
Mrs. Homer Lynn
.
Gretchen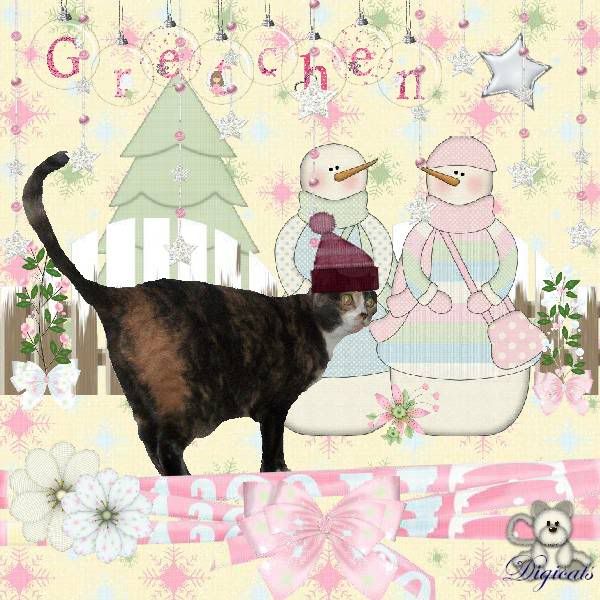 I hadn't done Miss Gretchen in a while. The
Snow Girls
taggers kit by
Soxsational Scraps
is not really cold with all the yellow pastels in it, but the fence does have Ice on it, and it comes with that nice star curtain.
I used the
"Christmas for her"
FTU Add-on alpha from
Kirsty's Scraps
. The
"Warm Winter Hat"
is from
Scrappin' with Lil Ole Me
, who is a fellow Floridian.
Gretchen talks to her floofyhead, Mike, all the time, so I figured chatting with Snow Girls would be right up her alley.
Meep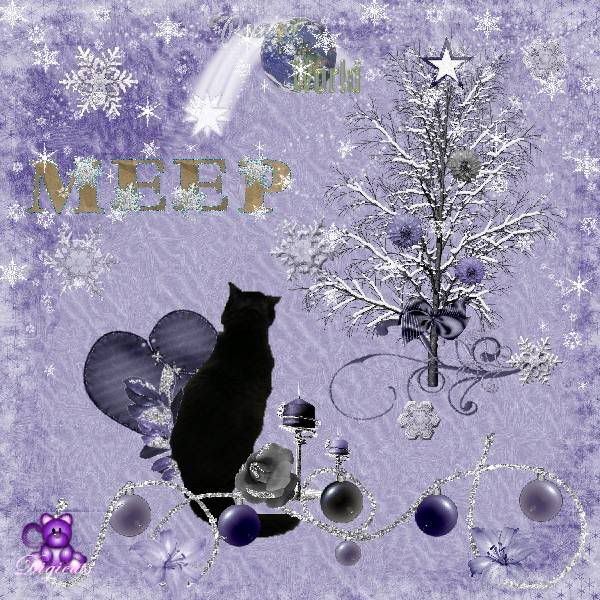 This did not come out as well as I had envisioned it, but it's still a pretty tag. I used the
Gothorian Xmas
taggers kit from Chaos Priestess. The Flakey alpha is from
Lady Grundlefunk
, and the
"Peace on Earth"
word art is from
Jaelop Designs
.
In order for this to have worked the way I wanted it to, I would have had to make Meep little teeny tiny and I didn't want to do that.
And we are done! Yeah!
Guest List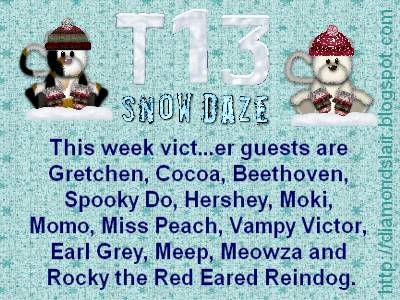 The Scraps are from the
"I Love Snow"
kit from Candy's Treats, and as per the above tag for Cocoa, the
"Icy Snow Font"
is a freebie add on. The little clip art cats which appear in many of the tags are from Designs by Sue and can be found at Aussie Scraps. The mittens and the hats are from the FTU
"Build a Snowman"
kit, also by Candy's Treats.
The "Icy" alpha is from
Bits'n'Bobs
. And yes, I realize it should have said "this week's" but it was late at night and I was tired already. Ah well.