Badge & Guest List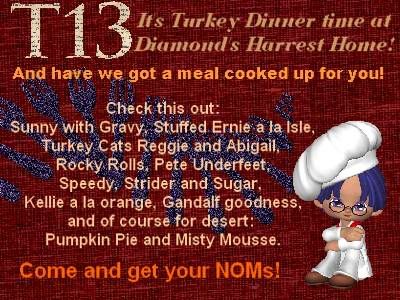 The scraps for the badge including the little chef poser came from Brandi's Creations
"In the Kitchen"
kit. It's a freebie and was actually kind of cute.
Sunny the Gravy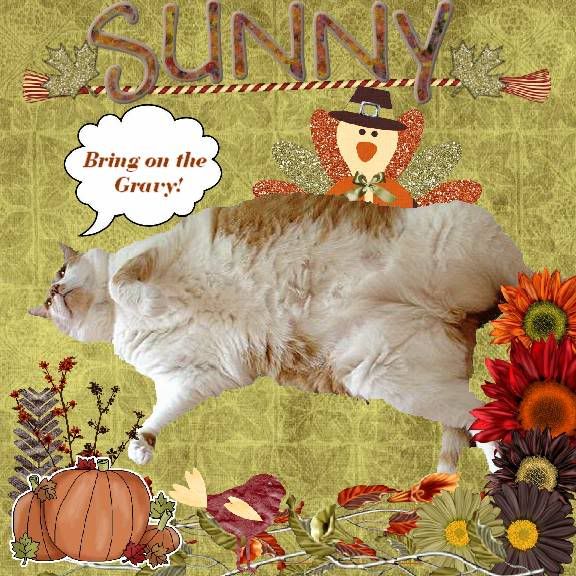 Sonny's nickname is "Gravy" so, this was of course a play on it. The Scraps came from the
"Give Thanks" Blog Train
, while the Hollow Alpha is from
AllieKat Creations
.
Rocky the Turkey Cat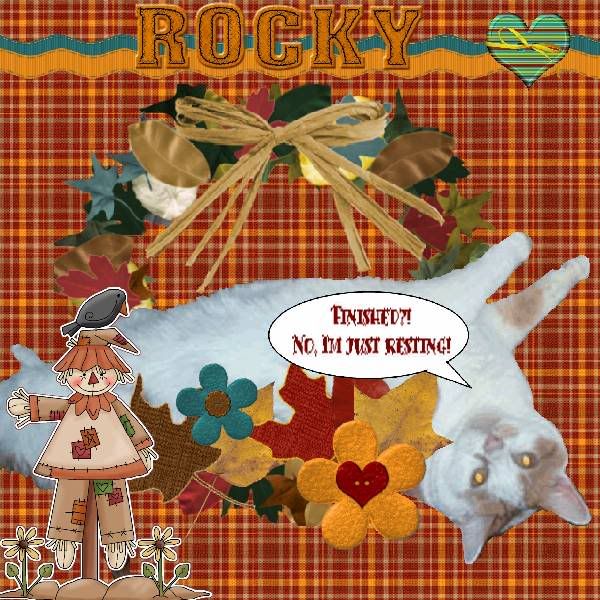 Rocky was an adopted stray but he does have all the earmarkings of being a member of the Turkish Van breed, including his size.
The Scraps for this piece came from the Autumn Blessings kit by
Sticky Kisses
. The
"Stitched Felt Halloween Alpha"
is from Raspberry Road Designs.
Reggie
Reggie is a member of the
"Turkey Cats"
, and they threw their own two day Thanksgiving blog party.
The scraps came from the
"Autumn's Splendor"
kit by
Butterfly Hollow Creations
, except for the turkey, which is from
Scrappiles of Digistyle
. The
Wheat Alpha
is courtesy of
Digi-Cyber Scraps
.
Misty Whispurrs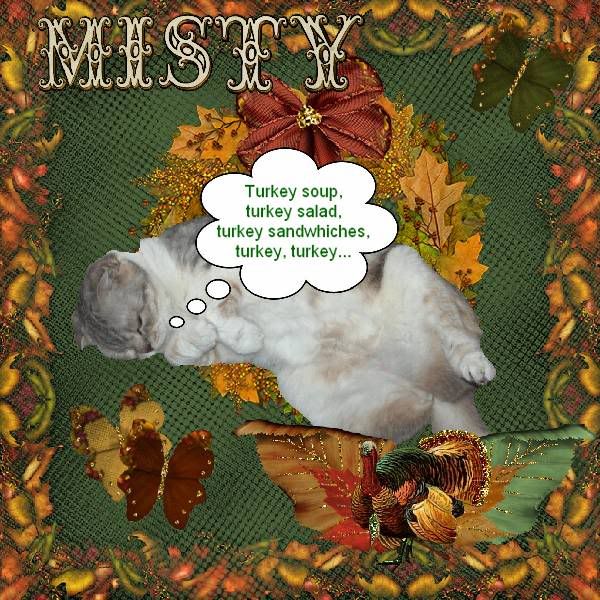 One of our blog buddies from
Xanga
and a big fan of Miss Diamond, Misty is a Scottish Fold cat, so her ears are turned down, as you can see.
The scraps are from the
Jive Turkey
kit by
Toni's Scraparoni
, while the
Everescents
Alpha is by
Sweet Digi-Scraps
.