Amber Fae
was a package I had meant to buy, put on my wish list and then forgot about until it became time to do this week's T-13.
She is course (c) 2008 by Perfect Posers. There area few more that I packages I want to get from Charly - the
Saffron Fae
for instance, and
Tropicana
, plus the Christmas packs, but I have to see how much money I have to spend after I pay my bills.
Maybe it's just me, but does anyone else find the
Kitty posers
weird?
Color me Amber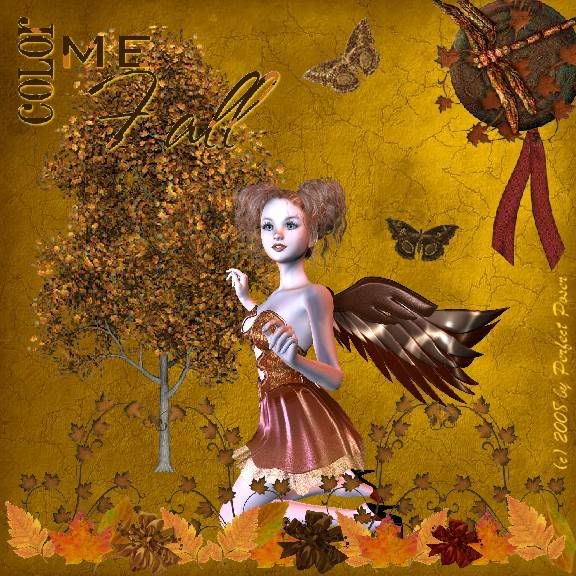 The scraps are from
Scrappy Lover
's
Knowledge is Power
kit, which is a very nice fall kit. The Word Art is by
Caitlin Scraps
(a.k.a. Cupcake Sprinkles).
I think Amber has bird, rather than insect wings - at least, that's what it looks like it this layout. I love the silk in her dress, I think that was very nicely done.
I did color the word art with a pattern from the kit before using it, then added the glow AFTER I'd saved it as a .pgn. This is important as you'll see in the next piece...
Amber Happiness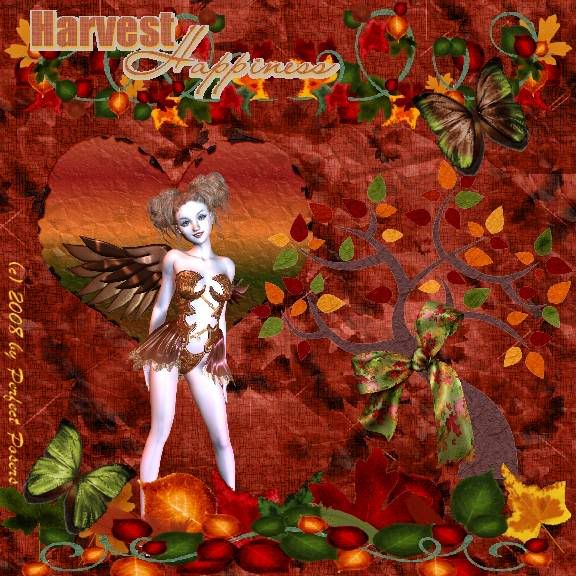 In this case, I did the fill on the word are then added the glow, then saved it as a pgn...and got that nasty gray outline on it. Maybe I'll go back and fix it tonight. ::sigh:: Live and learn, I guess.
I used
Candy's Treats
Cozy Autumn
kit. There is a "flower" file in the kit but it won't open for me. I need to send it back to Diane to see if she can figure out what's wrong with it.
This is another really nice fall kit and it comes with a whole bunch of leaves.
Walk in the Woods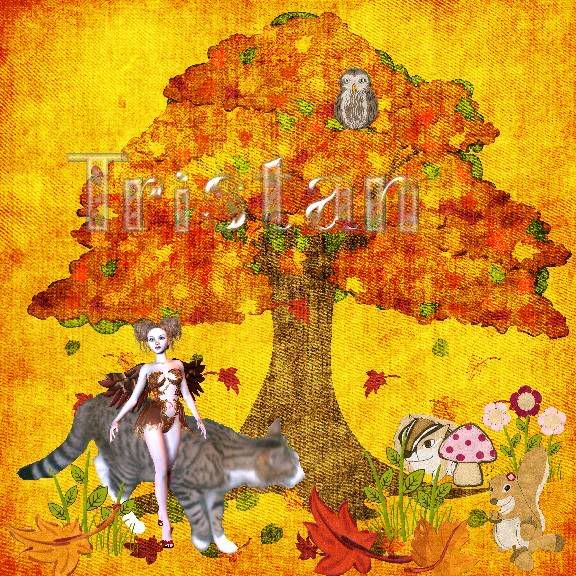 Here is Amber taking a walk in the woods with Tristan. I finally broke down and bought the papers for the
Autumn Forest Friends
kit by
Danielle Engbretson
. While that tree does come as an
element
in the kit, it works better when it's part of the background. So this is my first piece in which I used the kit as a whole, and not just the element pack.
Tris of course, is a bit interested in the little animals, but Amber won't let him hunt them.
Black Cat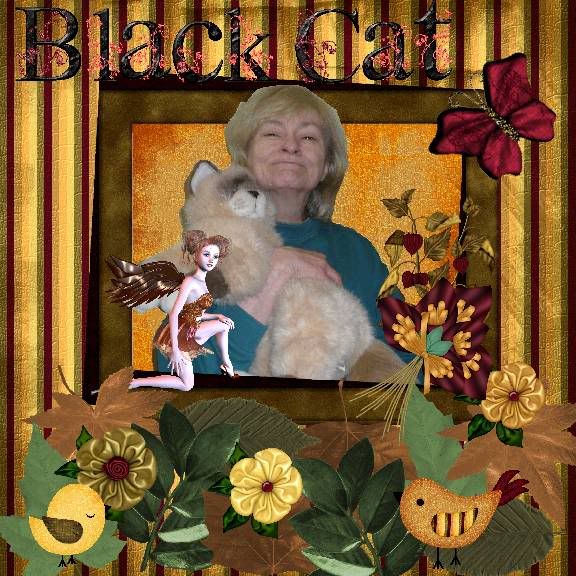 Black Cat describes herself as a cat lovin' crazy old lady in England. She sure is a fun blogger though. So I decided to use her status as an "honorary puddin" to work her into a T-13.
She is at the eye clinic in this shot, playing with one of the stuffed cats they have their for the children.
I used the
Autumn Breeze
kit from
Creations by Joe
for the Scraps. The
After Dusk Alpha
(decorated) was by Flower Scraps. I didn't follow the After Dusk blog train, but I did pick up several nice alphas from it, and this was one of them.
Nelly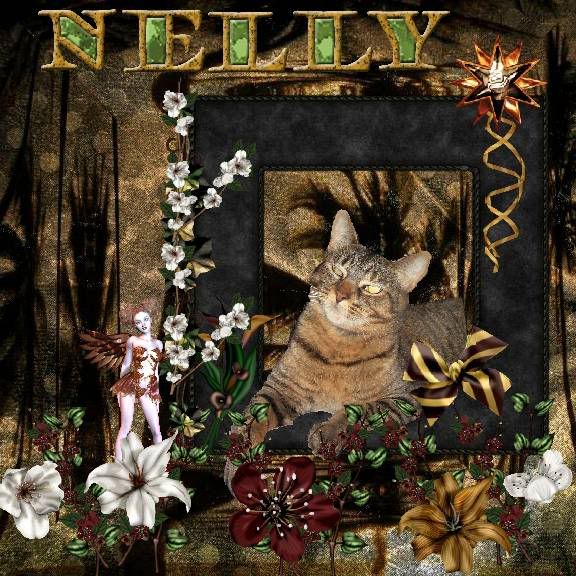 Nelly is the newest addition to the Jewel Cats and she's still getting used to her new family. She wished for a fur-ever home and it was granted.
I don't know that Amber had anything to do with it.
Thru Sugar's Eyes
is a very beautiful lush kit from
Scraps by Jessica
. I've commented on it several times and as it's usually part of the $1 day sale every Monday at
Taggers Scraps
, it's really quite inexpensive to pick up.
The Precious Gold Alpha is from
Janyelle Mayara
. You get three complete alphas in three different colors in the download.
The full T-13 presentation can be found
HERE
with the corresponding dialog. It will be interesting to see if anyone actually writes a story to go with their picture.