Veteran's Day ended up being a trying experience for the Fur Kids. We live downtown and they held a Veteran's Day parade which ended up about two and a half blocks from our house (if even that). Aside from all the parade noise, there did a military plane fly over, and there were fire crackers and a gun salute.
We got off work early, so I am glad I was able to be home to calm their little kitty fears.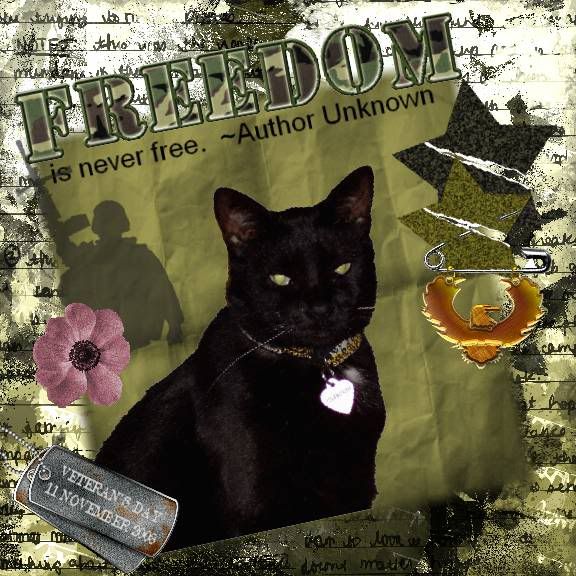 I used a kit from
Element by Design
called
War & Honour
that I had saved on CD for this kit. The alpha from
Free Digital Scrapbooking
, the poppy from
Kathy Goldstein
's
Enchanted Forest
kit and the soldier shadow from
Aussie Scrap
's
Camouflage's
mini-kit.
The eagle pin was from Wyvern's vintage War add-on.
I do have to admit it as noisy. Diamond can handle firecracker noises but the guns and planes were just too much.
We did however have an
Armistice
in place yesterday, which ended this morning when Miss Diamond came bounding into the bathroom after me and ran into Tristan laying on "her" bathmat. ::sigh::