Disney's Little Mermaid sort of killed most of my interest in Mermaids in general. They took a very good fairy tale of unrequited love and completely ruined it.
Had to have a happy ending. Wouldn't be Disney otherwise.
However, it's proved endlessly popular with little girl set.
Loreli's Friends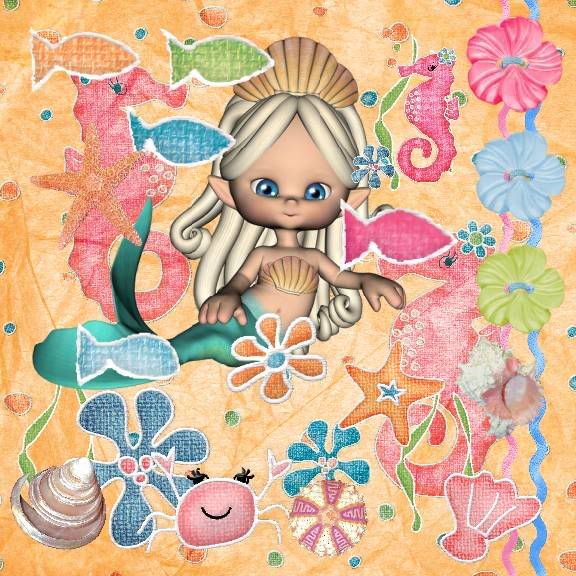 Loreli is from
Brandi's Creations
, although one of the other poser artist -
Sophisticated
, has a mermaid kit with similar little posers in it.
I'm not really hyped on the design.
The scraps are from Danielle Engbretson's
Friends of the Sea
kit, which is split into a
boy
and a girl themed side. This used the scraps from the girl themed side.
Bahama Smoothie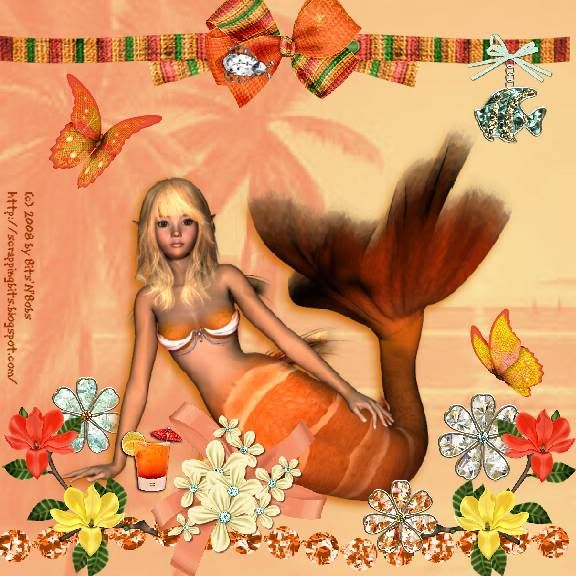 This is more of a traditional kind of mermaid...those that lured sailors to their doom. She was Part of a set from
Bits'N'Bobs
(which said CU 8, but I only counted six in the file?)
The scraps are a combination of the
Son of a Beach
Add-on,
Summer Smoothie
Add-on and
Bahama Mama
FTU taggers kit, all from
Toni's Scraparoni
. I'll probably go head and get the full SoaB and Smoothie kits this weekend, they look like fun.
Sea Maiden
This used one of the Mermaids from the Bits-N-Bobs set. As in the first tag, the scraps are from Danielle Engbretson's Friends of the Sea kit, but instead of using the "doodle" elements, I used the more realistic ones. Same kit, totally different look. It's very versitile in that regard.
It's also a full sized kit so you can use it to scrap you own little mermaids, if you should so desire.
Like I said, I'm going to do some stuff with a beach theme (this sort of qualifies) so they'll be a few more mermaid tags in the offering. I'm also thinking I might do something with Tristan and a Mermaid with the caption of "Hey look, I caught a fish!" Could be one of his "Meow Like a Pirate" entries on Friday. (This week he's suffering from a
bad Tuna Grog hangover
.)
Meanwhile, these are getting printed out to hang in Danielle's room as well.