Ballerina Bear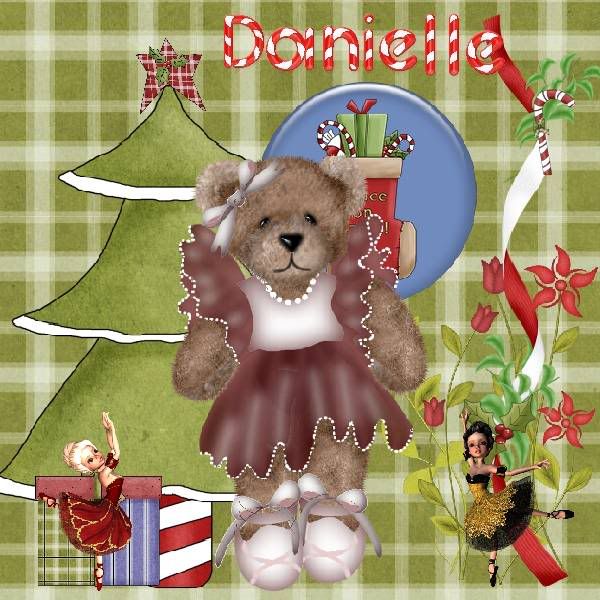 Gail from Aussie Scraps was giving this little bear away as a freebie. I didn't know if Danielle knew what a ballerina is. Turns out her whole bedroom is themed on Ballerina Bears. So...
The Scraps are from Cinnamon Scraps "Waiting for Santa" Taggers kit. The little ballerinas are from Bits'N'Bobs, and the Candy Cane Alpha is from Free Digital Scrapbooking.
If you download the bear (or the ballerinas) be sure to leave a thank you for the designer. 4-Shared now requires you to log in and your e-mail is displayed when you leave a message so a lot of people are foregoing that and the designers are feeling unloved. If nothing else, leave a shout out in their respective shout box.
Jingle for Peace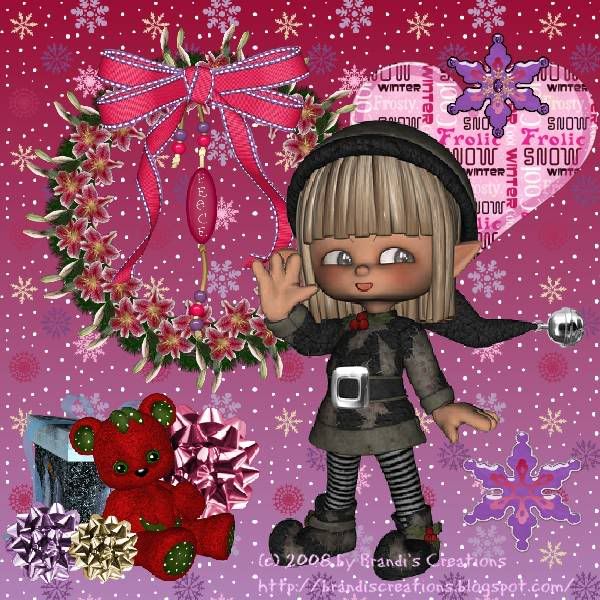 Despite being a freebie, Tranquil Xmas by Kittz Kreations is one of my favorite Holiday kits this year. I even used it for Tristan's card, LOL.
It's really nice and worth a few minutes of time to download. The "Jingle" and the Bear and pressie box are (c) 2008 by Brandi's Creations from her Jingle freebie.
Again, don't forget to leave a kind word if you snag any of the freebies.
The Snow Bride
Incognito released a kit called Winter Wonderland which featured the Snow Bride poser as it's centerpiece. It's so pretty, that it doesn't really need any outside help, despite the fact that the scraps are a little on slim side.
However, just for fun, I added in some silver snowflakes from Aussie Scraps and the ornaments on the tree are from Scrappy Sheila. One of the ornaments, the pale blue one came with the kit, as did the rest of the scraps. Just lovely!
Naughty or Nice
Incognito as has a 3 pack of Naughty or Nice posers which I used with this kit.
The scraps are from Cinnamon Scraps Winter Fun kit, although the felt ornaments, candy canes and Holly came from C.C. Designs Christmas Bits freebie. The Ice Crystals alpha is by Sentimental Style.
Do I need to say that for $2.00, Incognitos ladies are a much better value than the ones put out by Perfect Poser? I just wish there were more of them! And yes, they are available for commercial use.