I was on
Urban Mermaid
's blog at work, showing Rowena one of the animated tags, and she noted the Fairy Dreams in the Fall slide show the side. UM's blog is a little heavy on the slide show side.
"That's a beautiful fall kit," she pointed out. It is but her kits are nearly twice the price of everyone elses. However, given that
Sweet and Sassy
had everything on sale, including the "Fairy Dreams" kits, they were only 24 cents more than everyone elses so I got them. (Of course, all the rest of the tagger kits were marked down to between $1.49 and $1.80, but let's not go there.)
Once Upon A Time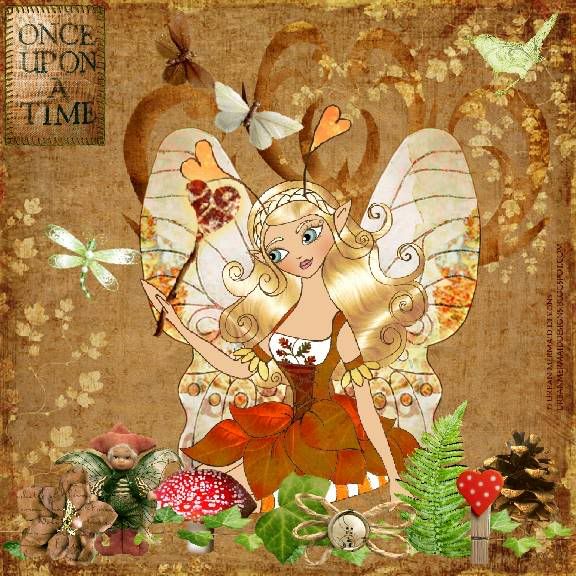 This uses the
Fairy Dreams in the Woods
kit, along with UM's
Fairy Add-on pack
which was a freebie as part of the SNS Fall Blog Train. There is a blog train or two that launched today, but I didn't feel like following them, especially as 4 Shared was being slow.
Note that both
Fairy Dreams in the Woods
and
Fairy Dreams in the Fall
have add-on packs (aside from the Fairy one), which were used as part of the whole in making these tags.
Songs from the Woods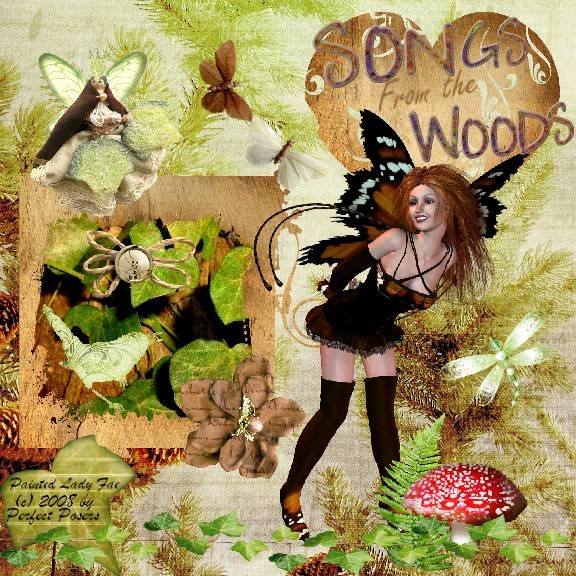 Same kit, different Fae, this is one of the Painted Lady Fae from Perfect Posers. I'm rather happy with the piece and was thrilled with the way the Copyright turned out on the journaling leaf.
The Hallow Alpha is from
AllieKat Creations
.
Gorgeous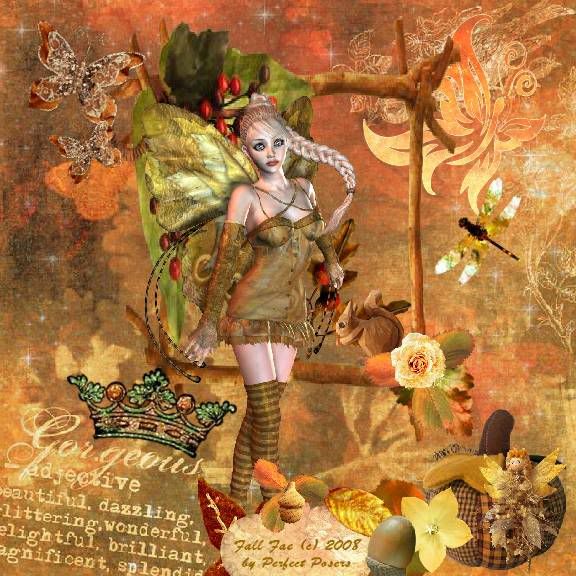 I do have to say that's the way this piece turned out. The Fae is (c) 2008 by Perfect Posers and the kit is Urban Mermaid's
Fairy Dreams in the Fall
.
It will make Rowena happy, I'm sure.
Miss Diamond's Awesome Autumn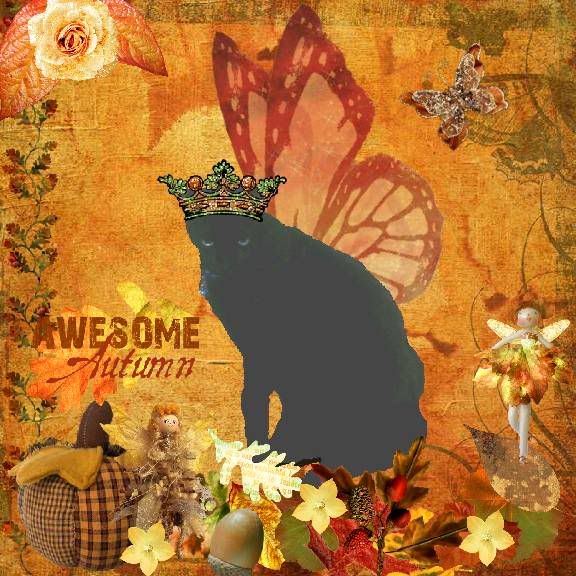 I reworked
Diamond's blog
using
Bluedream Design's Fall freebie
(with additional leaves from
Queenbrat
's
Autumn Leaves 1
pack). It's the first time I've tried this on a three column layout and turned out okay...some of the side bar items are hard to read but that's okay. No one pays that much attention to them anyway.
I didn't have a tag though that I liked that worked with the Autumn theme, so I did one up...this uses UM's Fairy Dreams in the Fall kit as well. The wings are from the Fairy Add-on pack referenced above.
Miss Diamond is really a good little girl, but I think Dragon's wings fit her better. I tossed some extra leaves into this layout as well, from Queenbrat's pack.
Let it Snow
This whimsical little piece uses the Let it Snow freebie from
Magic World
. The Fall Fae, is of course, (c) 2008 by Perfect Poser.
This is a nice little freebie that comes with it's own alpha except they named everything Element***Magic, which the *** being some special symbol. This is worse than UM's who names a number of her things "element##" and you just kind of have to browse through until you find what you want.
So I spent some time renaming everything as I was working with the kit. I know, I know...they always put in the TOU not to rename the files, but darn it all...name it something useful and I won't have to!
(okay, sorry, that's my gripe for the day.)
Fallen Star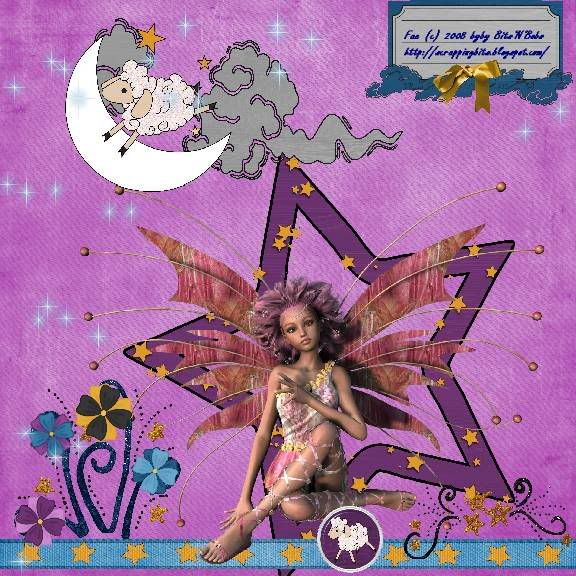 One of my new posers, part of a freebie pack (c) 2008 by
Bits'N'Bobs
. The Scraps are from the
Lullaby Lambs
kit by
Random Inspirations
.
Speaking of sheep -- I tried to build a Puddy Cat today, but screwed up it when I flattened the layers. So...I have to start again I think. I don't know how to salvage it.
However, I did find the "easy" way to do it, and can probably do seasonal sheep tags pretty soon. LOL.
I also bought the Build a Bird and Commercial Hoot kits so...watch out! I be a building fool soon!