According to my calendar, Fat Tuesday falls on February 24th this year, so yes, I'm way early with Mardi Gras. However, this strikes me as a much better alternative - for me at least - for a blog layout than trying to do a Valentine's Day one.
I just am not hearts and flowers and irregardless of what anyone thinks, love is not out to get me, never has been, never will be.
Mardi Gras
I knew that
Share CG
was a great place to download poser resources, but did not realize they had a download center for finished posers until SnowRaven told me about it. This particular poser came from Silkwood Designs (webside 404) and while the preview showed four posers, there was only one in the download.
The scraps are from the
"Mardi Gras"
kit by Sassy's Imagination, an interesting piece that features 1800 x 1800 papers which means you can't really use the resizing script on them. S.I. also parcipated in the Mardi Gras blog train, and I was putting that together last night, with the intent of playing with it tonight or tomorrow.
The "Foil Cap" alpha, which was intended to be a winter alpha but looked good with this, is from
Snowsmoon Designs
.
I like the poser, pity there was only one of them. I might have even paid for more!
Zebra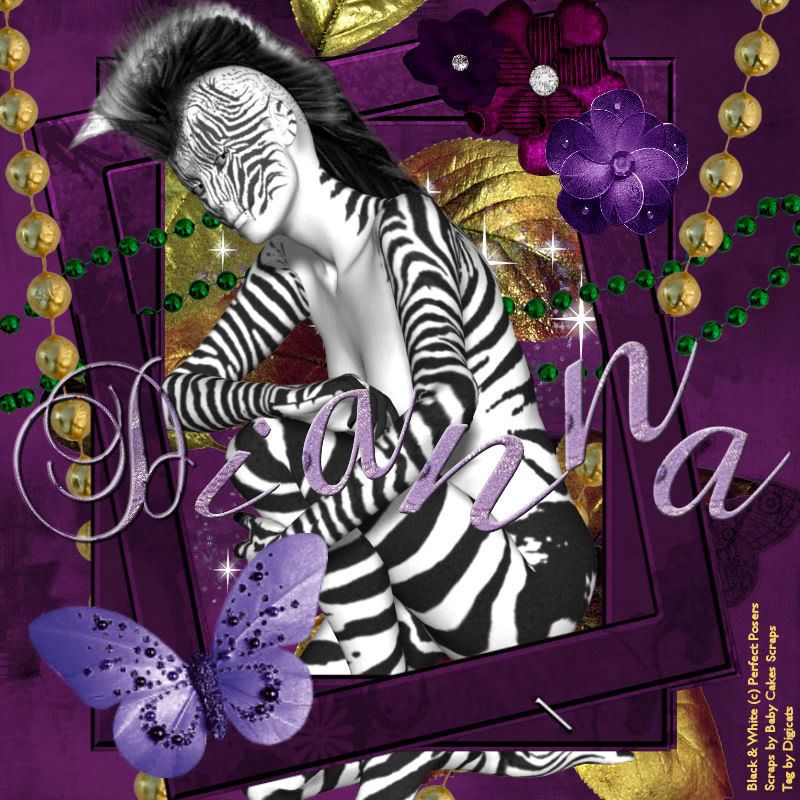 "Black and White" was released in November and I held off this long, I guess it was time I caved in. I've wanted her for a while.
The scraps are from the
"Sign of the Gypsy Queen"
except for the beads, which came from the
Mardi Gras Mini Collection
by Cherise Oleson I bought early last year from Scrap Girls.
While I like Baby Cake Scrap's "Gypsy Queen" there's no beads and no streamy ribbons, and I was kind of lost without them. There is however, lots of bling and it's a very pretty kit that you'll be seeing more of soon.
I used an older technique with this one, using a duplicate of the frame which I cropped in half to get the in-and-out effect. It was a littl tricky lining up, but I think the results were worth the effort.
The Purple Princess alpha is by
Wanderlust Designs
and is not quite the "right" shade of purple, but it worked okay. At least this way it stands out from the background.
And yes, before you ask, they really do dress that way:
Although I think you can no longer do full nudity...you have to have somethings besides paint covering you up. LOL!
As on previous occassions, you can find Perfect Posers offerings over at
Aussie Scrap Store
. Black and White was 7 tubes for $7.
Speaking of posers,
BTW, Untamed Angel has released a couple new sets that are interesting:
Alluring
and
Gothic
both of which I pick up today on sale at Heavenly Taggerz. Also, Bits N Bobs released a new "Love Chick" which can purchase at US4T, but she's a freebie add-on available on her
blog
, so be sure to check it out. They are available for Commercial use.