I had been putting off doing the write up on the second half of Holly Daze because of the bandwidth issue, but as we've bought Photobucket Pro, it's no longer as issue, so...
1.
Princess Dakota
I used the
"Girly Xmas"
taggers kit by
Cinnamon Scraps
for Dakota and I thought it turned out quite well. The little Christmas Kitty clip art is courtesy of Barb Derksen, while the Santa Hat is from
Goretty Rocha
, as is any and all Santa related headwear in this project.
The "Frosty" alpha is courtesy of Krakutuka. I was a freebie that
Digifree
found for me, and quickly became one of my favorites.
2.
Rosie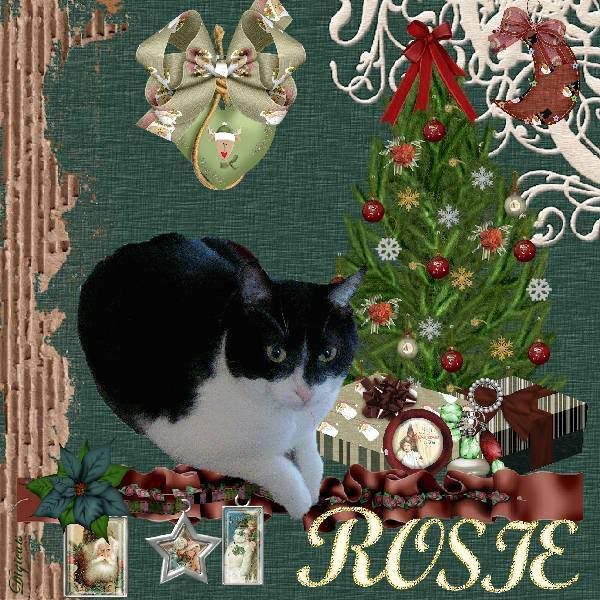 Rosie is scrapped using the
"Spirit of Christmas"
taggers kit from
Creationz by Jo
. The
"White Christmas"
alpha is from Delicious Scraps. I'd tried to put some head wear on her, or a ribbon or something, but it wasn't working. So she gets to be shown off her natural beauty.
3.
Maximillion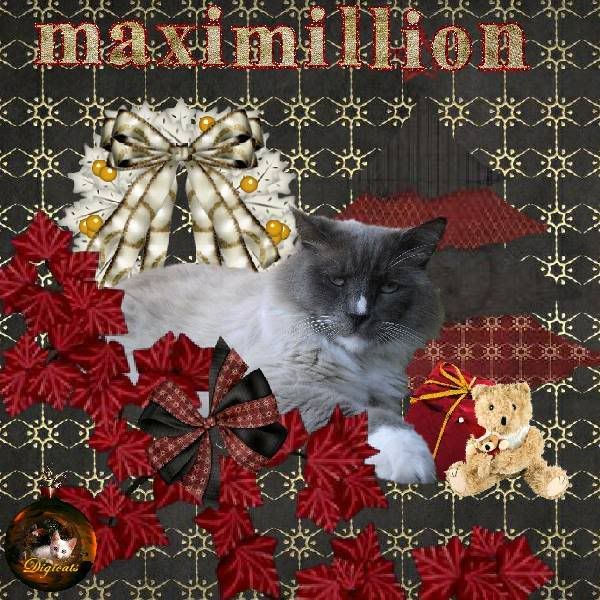 Max is one of Dr. Tweeties Fab-five. I had the pic for a while and couldn't remember what blog he was associated with. But I finally figured it out.
The scraps from the
"Xmas Night"
taggers kit from
Yarrow
, the wreath came from
Brandi's Creations
, from the "Christmas Gold" kit. The Aged Shimmering alpha is from Linda Walton at
Bon Scrapatit Designs
.
The little Christmas cat ornament was a Digifree download and again, either didn't come with a credit or I some how lost it, but I don't know who did those. They're really cute though. I TRY to keep track of this stuff, but it's hard. And if you're doing the work, wouldn't you want to at least put your name on the preview?
4.
Lightning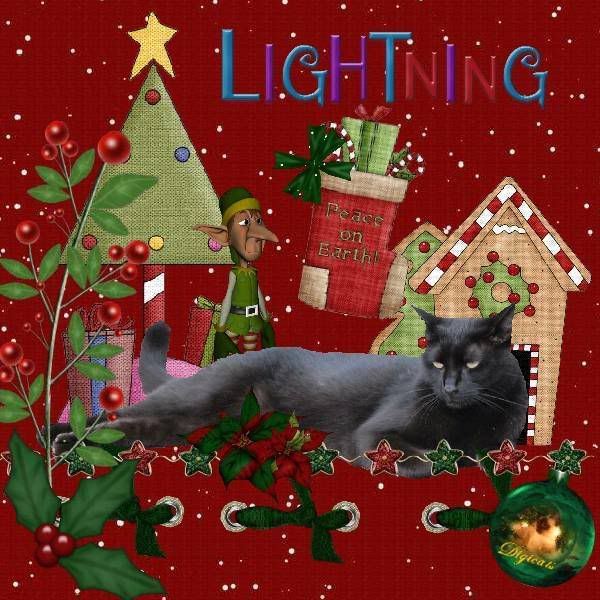 The scraps are from the "Ho!Ho!Ho!" taggers kit from
Soxsational Scraps
as was the "Elfie" poser. Both are blog freebies. The "Isle of Misfit Toys" alpha is from
Free Digital Scrapbooking
. They also have a matching font available for it. I just recently discovered their font downloads and snagged quick a few, I'll have to go back one weekend and collect the rest.
5.
Laila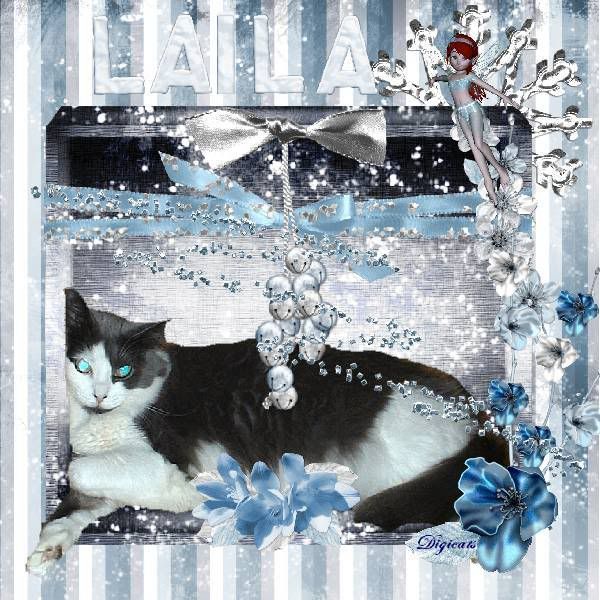 Laila was laying in a cardboard box. At first I'd left her in the box and was planning on "wrapping" it, but that wasn't working for me, so I cut her out of that box and put her in another one.
I used the "Sleigh Bells" taggers kit from
Candy's Treats
, who also provided the Icy Snow alpha, which is a freebie available on her blog. The
Ice Fae
is courtesy of Brandi's Creations while the big snowflake in the background was from
SheDevil Designs
.
6.
Jeter Harris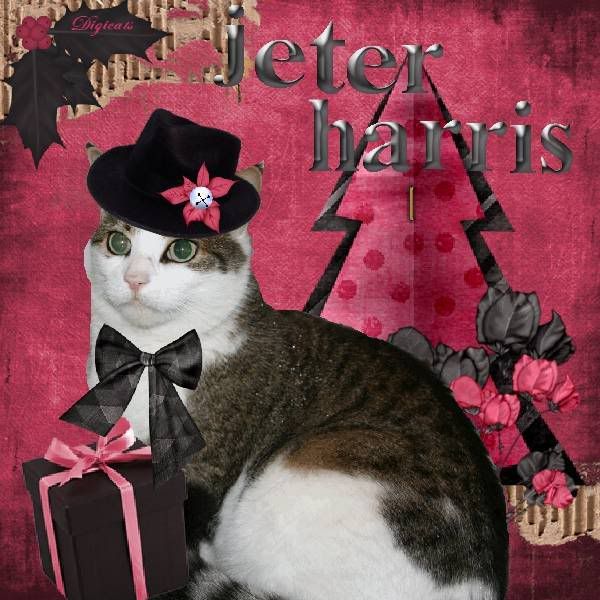 I thought this turned out really nice and that Jeter looked quite dapper. The scraps are from the
"Grungy Xmas"
taggers kit by
Yarrow
. The hat comes to us courtesy of the
Maltese Scrapper
, while the Sleigh Bell is from
Kissed by Pix
.
The "Black" alpha is from Dreamsfulfilled.
Jeter reminds me a lot of Tristan or Tristan reminds me a lot of Jeter, although their faces are quite different.
7.
Elsie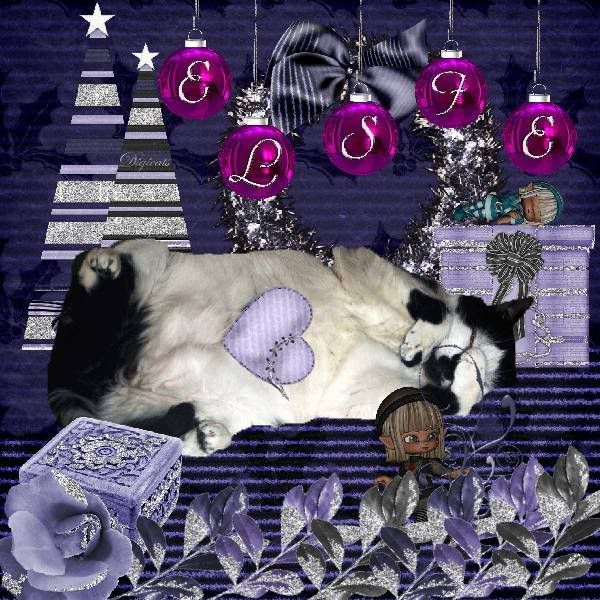 I ended up doing this one twice. Eslie has a heart shaped marking on her tummy. It wasn't really clear from the shot, so I helped her out a bit.
The scraps are from
"A Gothorian Xmas"
taggers kit from Chaos Priestess. The
Jingles
are from Brandi's Creations, while the Purple Ornament alpha was a freebie from
Sugar Mama Scraps
, one of the December give-away of the day promo.
We got lots of freebies in December, it was fun!
This was the original piece I did, using the first version of the "Snow Cute" kit from
Soxsational Scraps
. This was one of the kits that was recalled and the clip art replaced.
The little
Rufus Bear
is (c)
Angel's Tubes
and is/was a freebie, while the "Aged Shimmering" alpha is from Linda Walton and Bon Scrapatit Designs as mentioned above.