The
Scrapping Bratz Valentine Blog Train
is set to leave the station tomorrow, although several designers already have their offerings up if you care to get a jump on the thing. This is a big one, so it's probably going to take a while to collect. Myself, I'm sort of valentined out and am wondering if I really need to do this - I've probably got as much VD stuff as I do Xmas! Yikes!
So, Valentines aside,
Designs by Ali
had released a new kit call
"The Pirate in Me"
so I was all set to do Pirate tags last night. Or so I thought. When I went to download the kit, the file came back invalid or corrupted. ::sigh:: So instead, I decided to work with another Designs by Ali kit, called
Midnight Dreams
, which I'd purchased earlier this month. This is a beautiful kit in black, white, gold and silver and while I was working with it, I could tell it was just begging to be a blog layout.
It comes with a couple of the goth Pauline posers from
KairinaKat Kreations
which I used in this tag and given the "Dark & Beautiful" background could probably work as a goth kit, but it struck me as being too elegant for that. The Black Gold alpha from
Bizee 1 Digi-Arts
fits in just perfect, so I used it throughout this series.
Generally speaking, I have no use for bridal posers, but the
"Snow Bride"
set from
Bits'N'Bobs
was on sale and well...they are very beautiful pieces. Since I wanted something more elegant I chose to use them with this kit. They did work very well, I will say that, and they are fantasy pieces after all.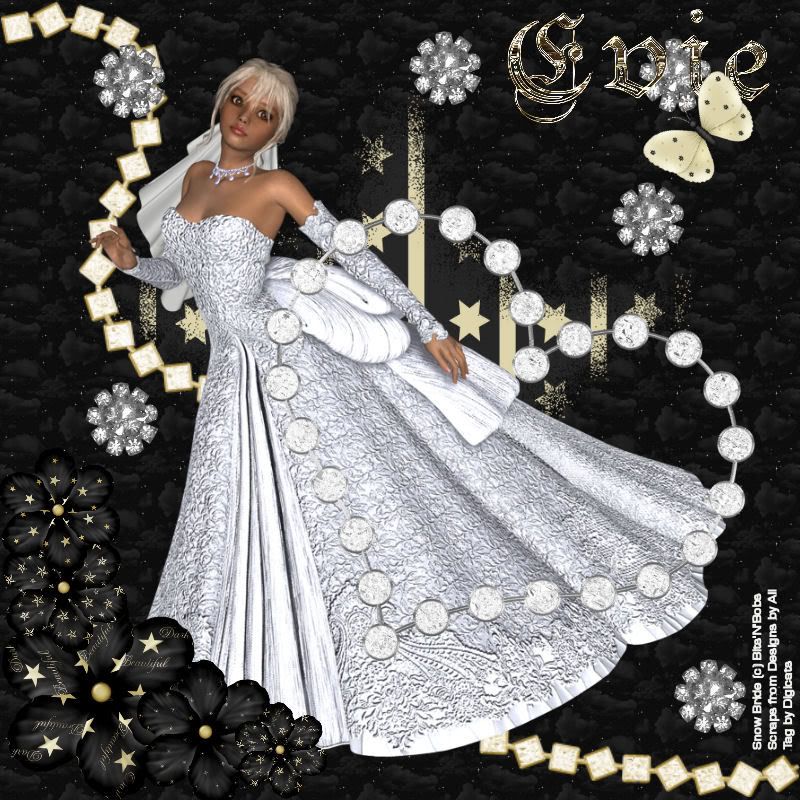 And of course, lots of bling in the kit, which I just adore. I can just image what a dress like that would cost in the real world. Yikes!
The World Art in the background is from
Ginger's House
and Of course, I glitterfied it. I didn't really want word art, so much as I wanted something in the background. That font didn't lend itself well to glitter, but what the heck...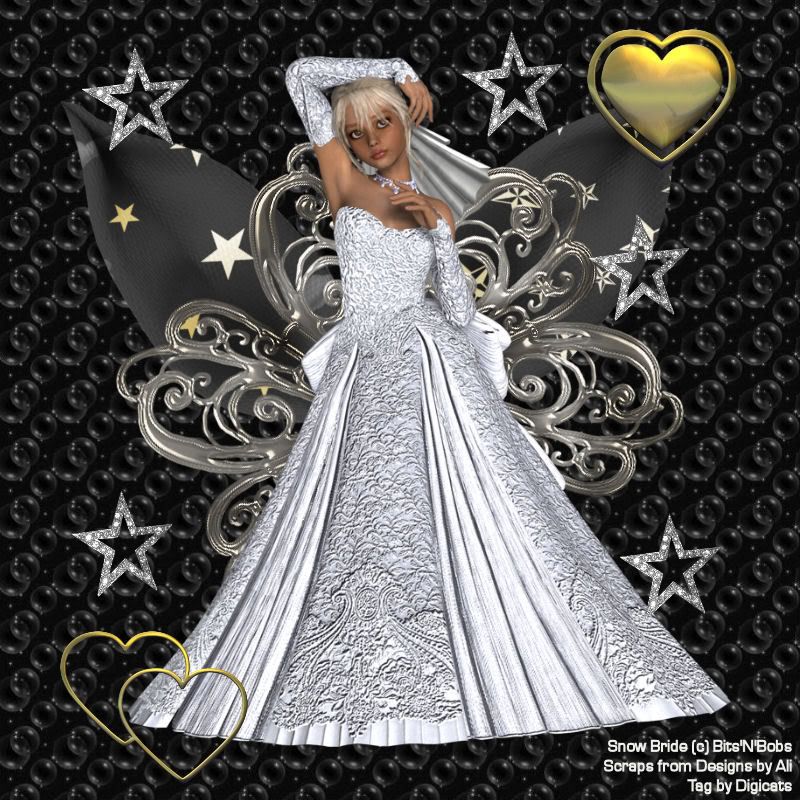 The gold
"sweethearts"
are from an element pack by
Krissy's Scraps
. I bought them because I feel I always have a use for hearts, but to date, I've not had a chance to use them. Of course, I have kitty and woofie tags to get through, so I'm sure they'll come in useful. I was actually looking for the red 3-D looking ones, but evidently, I didn't buy that package.
Anyway, hope you enjoyed this little bridal fantasy. At least you don't have to worry about catching the bouquet.