I did not realize the Daisy
wanted to be a princess
. If I had, I'd have made her a princess much sooner.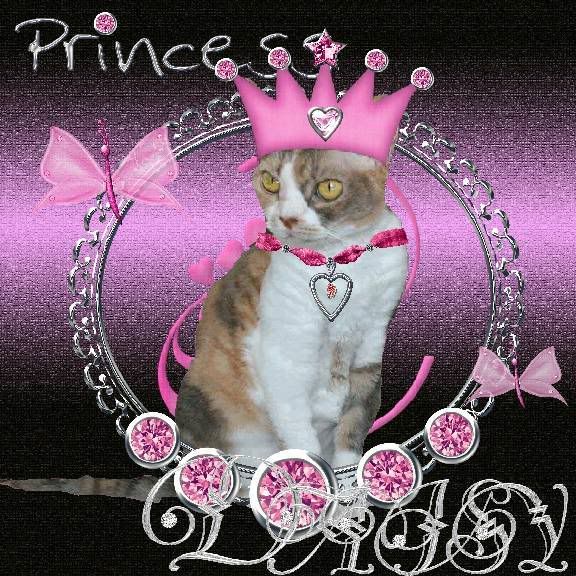 Diamond says being a Princess is not all it's cracked up to be. Yes, you get a unicorn, but then you have to muck out the stall and take care of it.
I used the
Princess Bling
kit from
Robin's Chic Scraps
and the Pretty Princess kit from
Kristen's Wicked Scrapz
to put this together. The pink star in the crown is from the Wicked Cool kit from
Designs by Helly
. The Diamond Alpha was created by
JoBeth Scraps
.
You do have to admit she looks very imperious in this shot.
---
Another conglomeration piece is
Fright Night
which is another graphic I did for the House Panthers' group.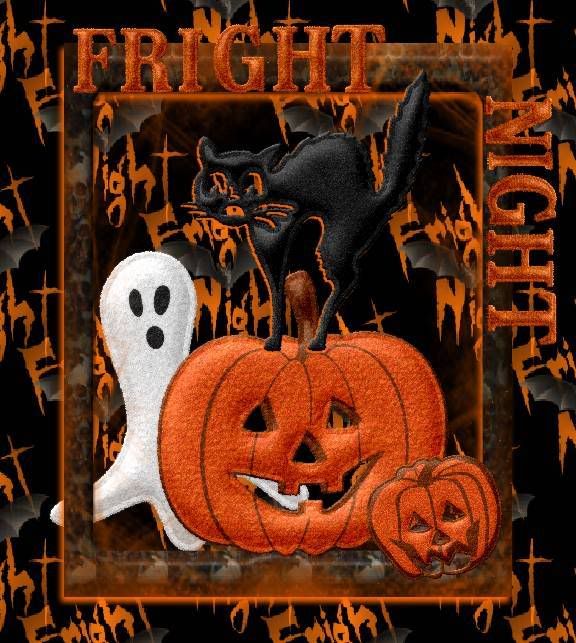 The background was a freebie from Deviant Designer, and the frame was a freebie from Angel Designs. The felt pieces came from Monika Digital Designs and they were a free download from
AhhhScrap
, I think. The felt Alpha was a Digi-free find from Clever Crow Design Studio.
I used an orange glow/drop shadow on the frame and the cat to make them stand out better.
---
I knew I had done another tag, and I couldn't find it. In the end, I'd forgotten to upload it.
October is my birthday month and Fall is my favorite time of year. I do not have yellow hair however, although it does go well with the colors.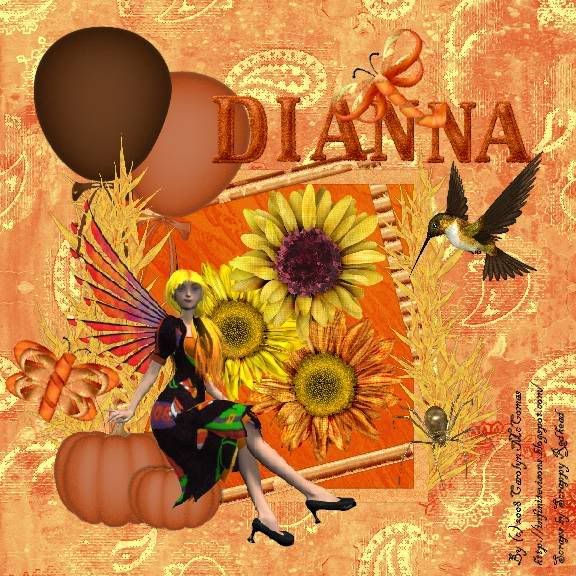 The Fairy is the
October Fairy-of-the-month
from
Ratmomma
(© 2008 Carolyn McComas). I used a freebie kit from
Scrappy Redhead
(apply titled Fall Mini Freebie) which I downloaded from
Scrap Happiness
.
---
I'm a little unhappy because the only pics I have a Tristan I've taken with the digital, and they're not really clear. In any case he's got some plans for this weekend as you can see from tag that I call
"Steppin' Out"
: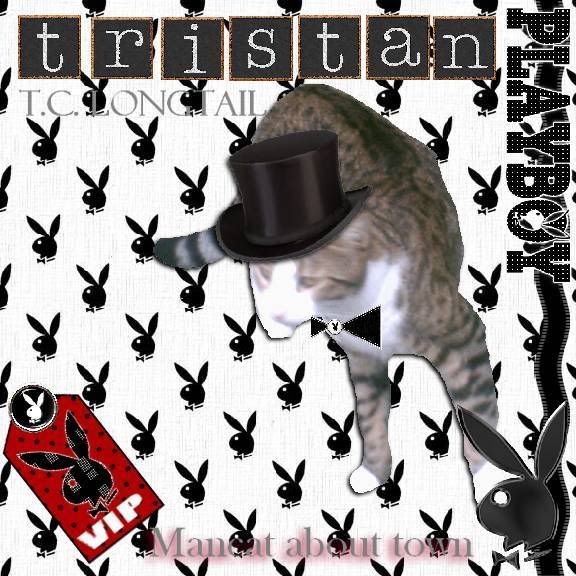 However, he does look rather elegant, don't you think?
I used the Black & White Playboy kit from
Kristen's Wicked Scrapz
, although the "VIP Pass" is assembled off a tag from her Red and Black kit. The alpha was from the Dinner Party freebie from Shabby Princess.
The hat was producted the way some designers produce their kits: I found a picture of a hat that I liked and I giffed it.
I couldn't figure out how to give him a walking cane however, but as he says he's taking a limo to "his" club, I guess he doesn't need one.