I'm tickled pick in this tag and I'm much indebted to the
Maltese Scrapper
for coming through with the Bride of Frankenstein wig very quickly upon request.
I don't think Miss Sam Black as ever looked so eligant before!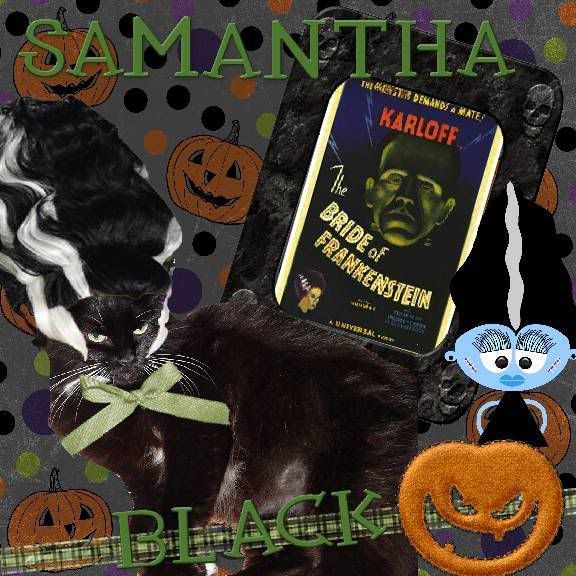 The scraps are from Kathy Goldstein's
What a Scream
kit, except for the Bride of Frank-N-Stein, who is (c) 2008 by Tiffany Kennedy of
Scrappiles of Digi Style
.
The Little Monster alpha is from
Free Digital Scrapbooking
.
---
Miss Diamond's tribute to Lon Chaney Jr., the man of a 1,000 faces.
The scraps are from Honored Scraps
Spookable
kit, except of course, the mask, which I pulled off an internet picture and giffed.
I still can't figure out how to save something as a transparent .png, but I just ordered PS5.0 Classroom in a Book & PS5.0 for Windows for Dummies, so maybe I'll get that sorted out soon.
In sleep she sang to me
In dreams she came
That voice which meows to me
And speaks my name
And do I dream again?
For now I find
The Diamond of the opera is there,
Inside my mind
There is no Diamond of the Opera!
Raoul, I've been there -
to her world of
unending night . . .
To a world where
the daylight dissolves
into darkness . . .
darkness . . .