I love
Brandi's Creations
. She does some amazing 3-D work and she gives it away for free and allows commercial use as well.
Her Wizard of Oz kit, which lacks only Toto, is a hoot. But the following pair of designs are from the
LeRoy Add On
: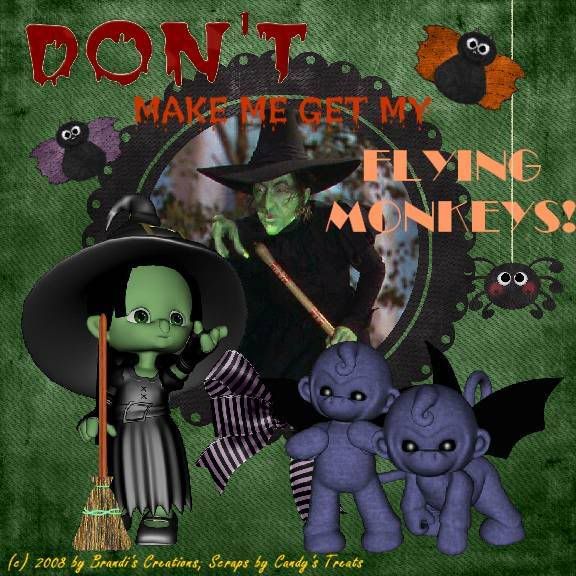 The Scraps are from the
Freebie Fright Night
kit from Candy's Treats, and the Bloody Mess alpha is from
Free Digital Scrapbooking
. I forgot where I got the broom from (bad girl).
The picture of the Wicked Witch is (c) 1939 MGM Studios, unless it's already gone over into public domain. I'm never sure with these things anymore.
There are several pieces to the Fright Night kit, including the
Pumpkin Add-on
, and the
Work Art add-on
neither of which I used in this piece.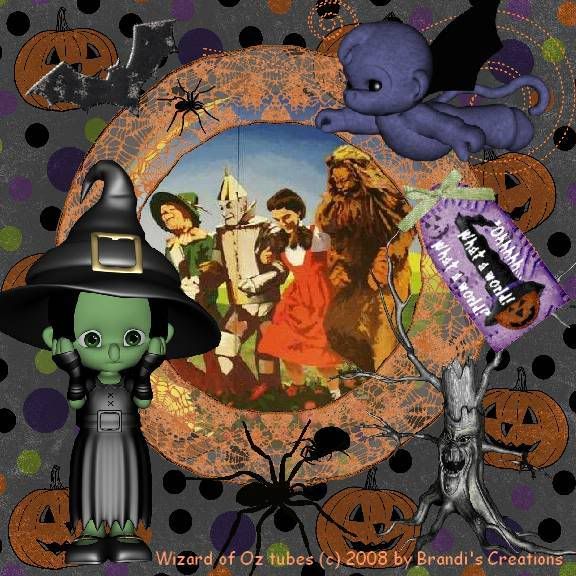 The same copyright applies to the mural that I used in this piece. The scraps are from Kathy Goldstein's
What a Scream
and
Tag Your It
Halloween kits.
The "Tag Your It" kit is one of the things I bought on
AhhhScraps
$1.00 sale.
I was really surprised however, when a 3-D artist going by Calypso Designs moved into several stores, including
Crafty Scraps
with designs that are fairly similar to Brandi's. I don't have a use for 90% of them, and I think Brandi does a better job in any case, but I couldn't pass on the Halloween Cat 4-pack.
Especially as Tristan wanted some Tabby Graphics to share with his Tabby friends.
(For what it's worth, I think Calypso's "Cute Baby" looks scary, but that's just me.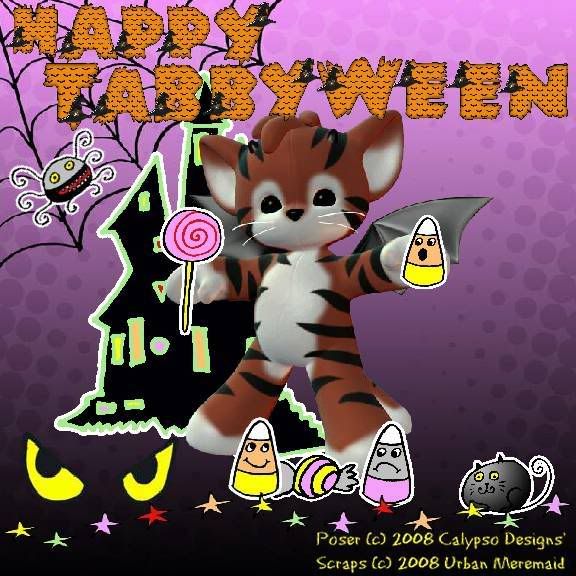 The Scraps are from Urban Mermaid's
Doodle Daze Halloween
collection. See the
Devil Boy
post for a list of kits available in that collection.
The Alpha was a
freebie
from Andjelina's Designs, which you can snag at
AhhhScrap
.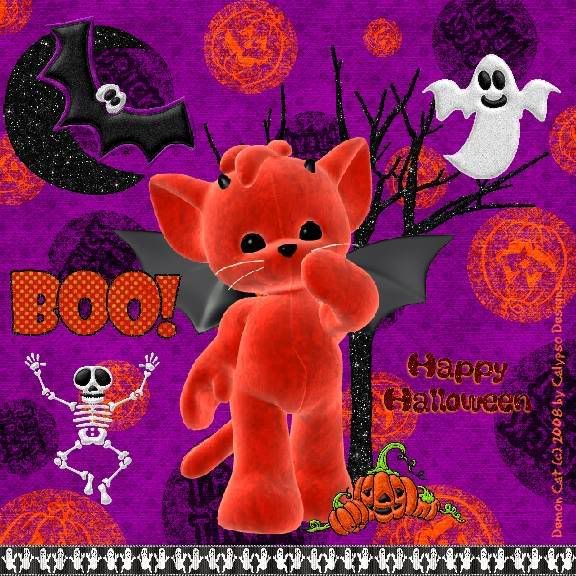 Brimstone, Demon Cat from Hell is shown off using the scraps from the Creature Comforts Scrapkit, © 2007 by Jennifer Lieberenz & Danielle Fenning of
Scrapoutsidethebox.com
. The word art was the the Tagger's Halloween Freebie (I think).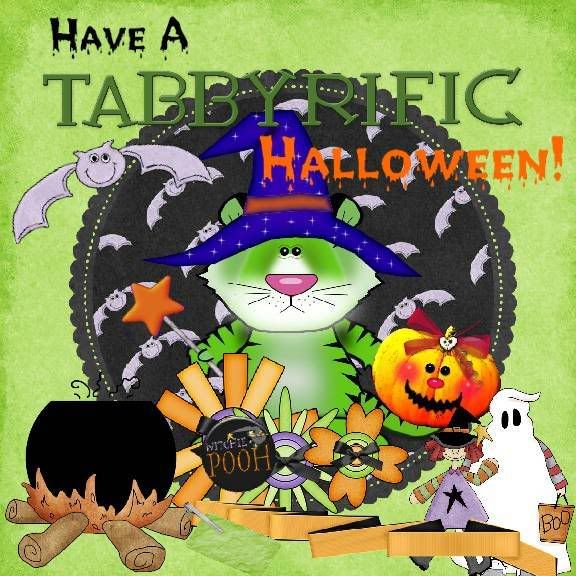 This little tabby/tiger is from
Paci's Tubes
as was the pumpkin. The Scraps came from Cinnamon Scraps'
Happy Haunting
Kit, which is a freebie. The Alpha is from Free Digital Scrapbooking. (Notice I forgot the copyright?)