AhhhScrap
is having their first $1.00 sale. It's Wacky Wednesday with selected Freebies at
Taggers Scraps
and
Terminally Unique Designs
is finishing of their 40% off sale today.
None of these has me in alt. Maybe I'm shopped out. I dunno.
What I really want is for Scrap Happiness for Digital Chaos to have a big sale, so can grab some Redhead's kits at a reduced price. She's got a bunch out that I want, but I'm somewhat adverse to shelling out $4 or $5 bucks per kit.
Diane at Candy's Treats has finished a new mega winter kit. Stop by
her blog
to get the freebie add on.
I fixed the
Stagelight tag
and I redid the
Goth Girrrl tag
to something I'm happier with.
Twisted Mind
I have a hard time figuring out what to do with head shots. I know some taggers really like them. Anyway, I saw a really interesting layout somewhere and I didn't recreate it, but it do sort of influence this layout.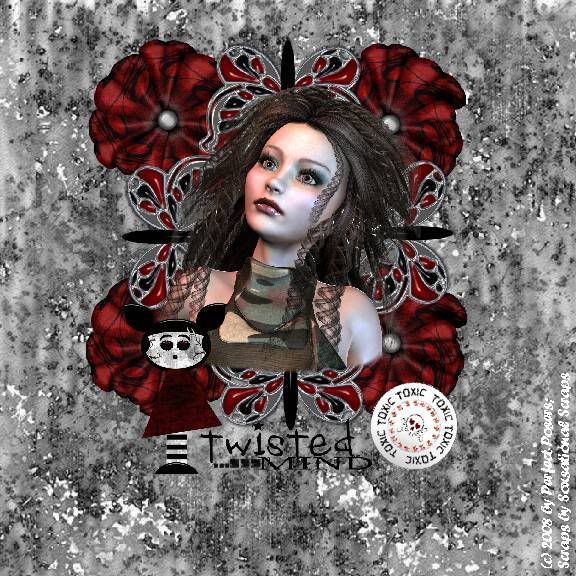 The Poser is from the GI Babe collection from Perfect Posers.
Soxsational Scraps
Toxic taggers kit provided the tags.
That is not the little doll I wanted in there, but couldn't find the one I wanted. but overall, I'm rather pleased with it.
Kristy, over at Berry Bliss, has a bunch of those little dolls you can purchase for $1.50 each. I rather like the little Morticia doll.
I can always add my name and use it as a tag - I think I might do that. I'm getting a little tired of the Halloween one.
Eternally Alone
Very similar layout using different elements. The poser is from LK Designs from her freebie
Attitude kit
that you can find on the Sophisticated Imaging blog.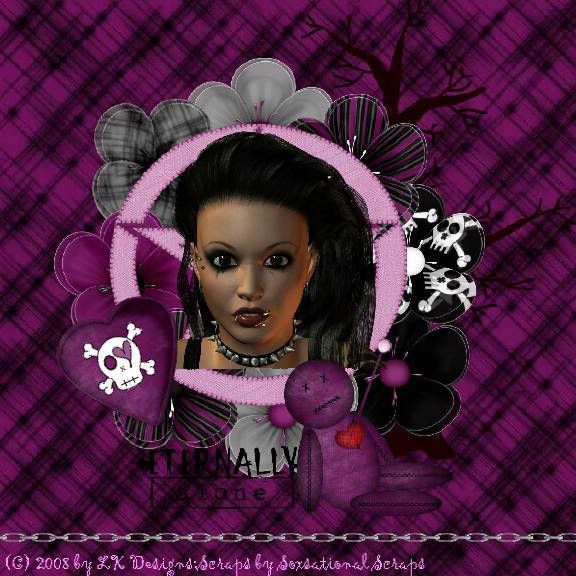 I used the Poison kit from Soxsational Scraps on this one. This is kind of a duality kit because on one hand it's all the Emo stuff, and on the other hand, it's Girl's rock.
Poisoned Rocker
So, this is the flip side of the Poisoned kit. The Rocker chicks are from the
Hard Rock
pack which is also a freebie from LK Designs and available on the Sophisticated Imaging blog.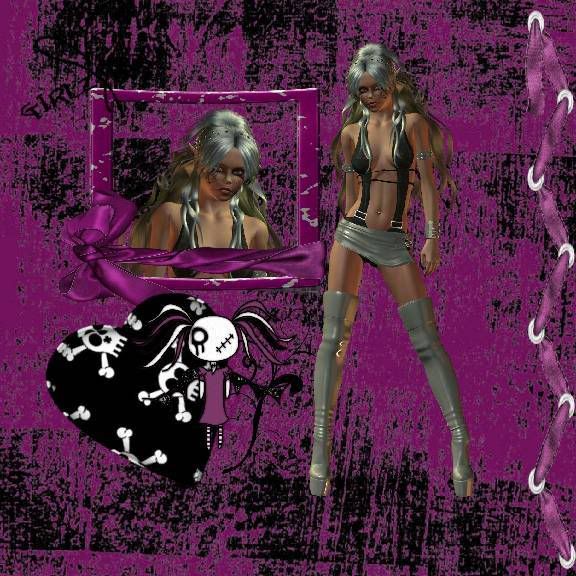 I had to crop the head shot myself as none came with the kit, but this is a fairly common practice with Graphic Hobbiests. Why does it bother me to behead a cat, but not a human?
No fairies today. I did a couple but dont' like them, so I'm still looking for reworks on them.