The Masquarade was held at
Castle Diamond
and all who participated felt it was REALLY hard!
To disguise the cats and dogs, I ran then though Photoshop, altering in the coat colors in many cases and then adding a filter effect.
For Scraps,
Scrappy Redhead
has four "Not Really Halloween" kits: From Dusk to Dawn, Alabaster Daze, Autumn Nights and Nocturnal. All of Redhead's kits can be found at
Scrap Happiness
.
I used the masks from
Scrappy Lover
's
>Showtime
kit except as noted below.
1.
Halloween
. I thought it approriate, since we are celibrating Halloween, to start out with
Halloween the Cat
.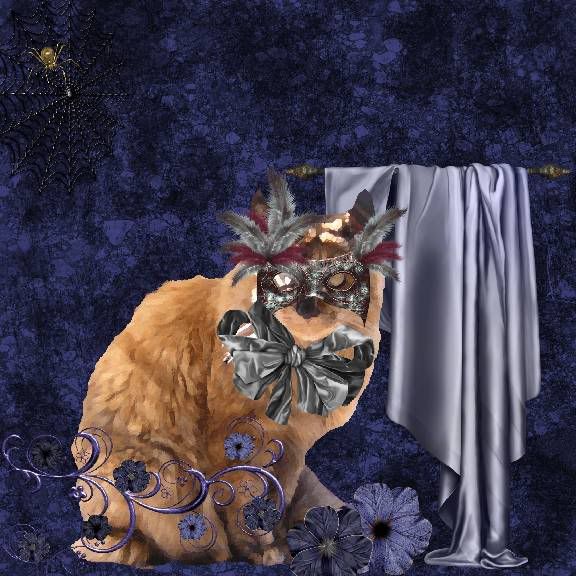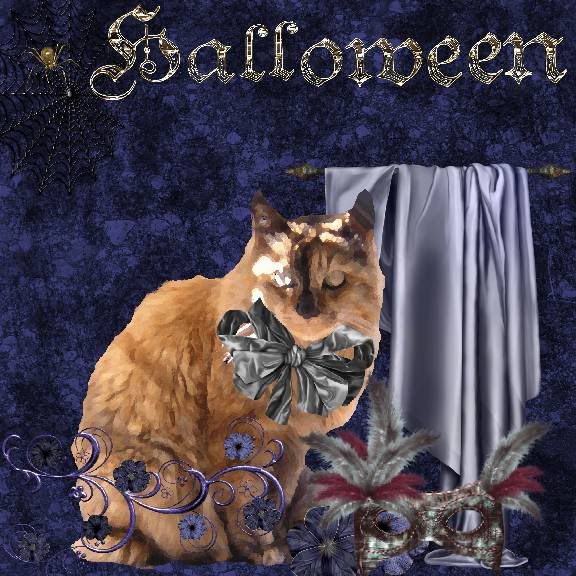 I used the Poster Edge filter on Halloween, as I figured she'd be obscure enough to begin with.
This made use of the From Dusk to Dawn kit, although the spider is from the Albaster Daze kit. It's the only kit with a spider, so all the spiders in these pieces came from that kit.
Black Gold Alpha was a freebie from
Bizee Digital Arts
.
2.
Scotchy
is from
Kellykat's Korner
.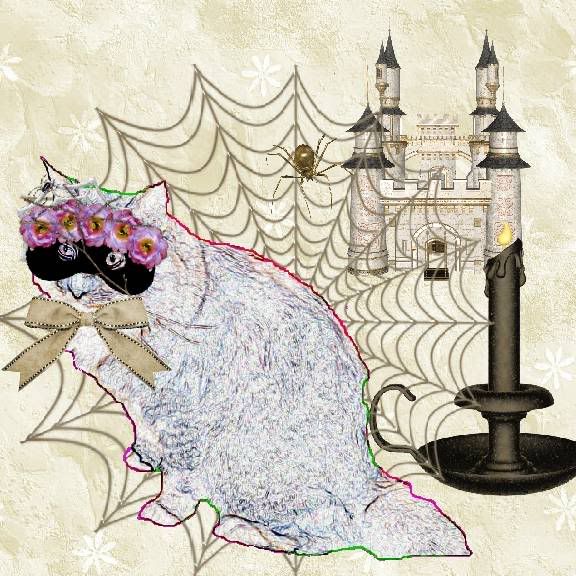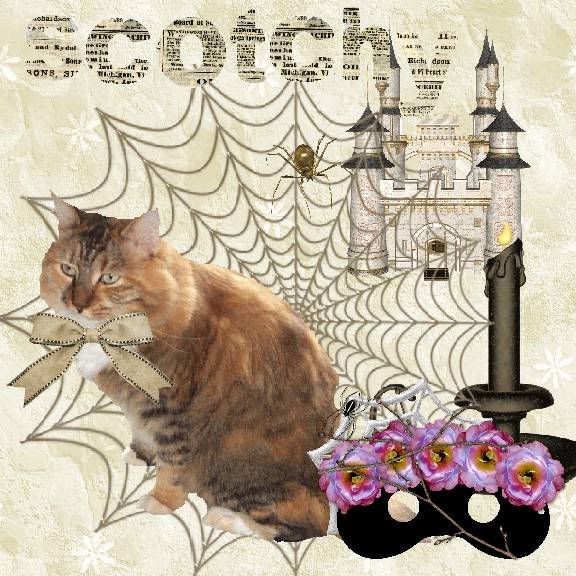 For Scotchy, I used the find edges filter, which turned him white, as a side effect. The Mask is (c) 2008 by Tracy King, and I used the Alabaster Daze kit for the scraps.
The
Tattered Alpha
is from
Kittycat Designs
.
3.
Thompson
came to dance with the stars from the
Cat's Eye
blog.
I'm surprised more fursons did not guess this one as he has a very distinctive beauty mark on his nose, even when it was turned hot pink, and is, of course, missing a front leg. I guess the bush did a better job of hiding that than I thought!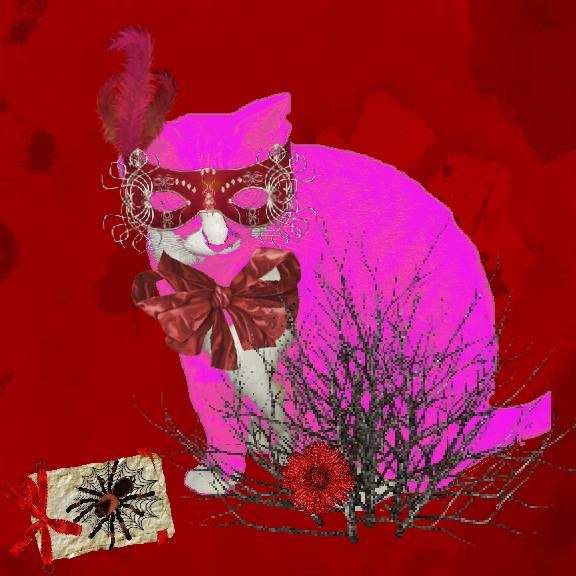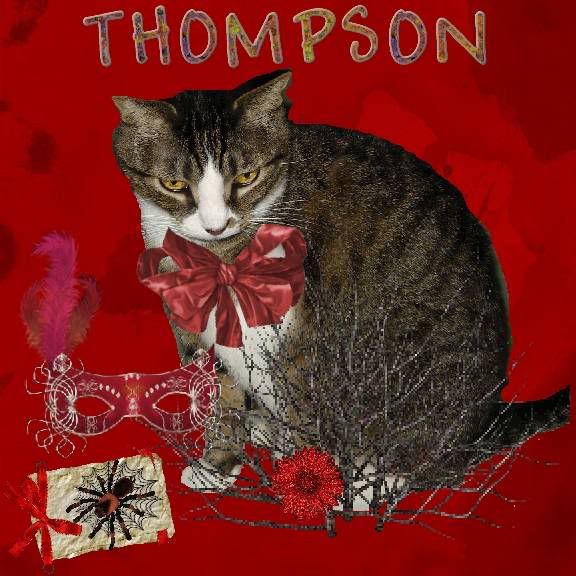 All the scraps are from the Nocturnal kit, except the mask, as noted above. The Hallow Alpha is by
AllieKat Creations
.
4.
Madison
is from
Cory Cat Talks
. Cory guessed that this was his brother and he was correct.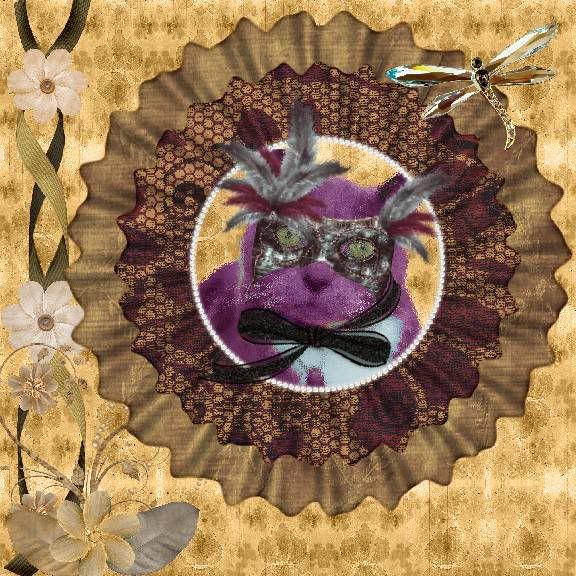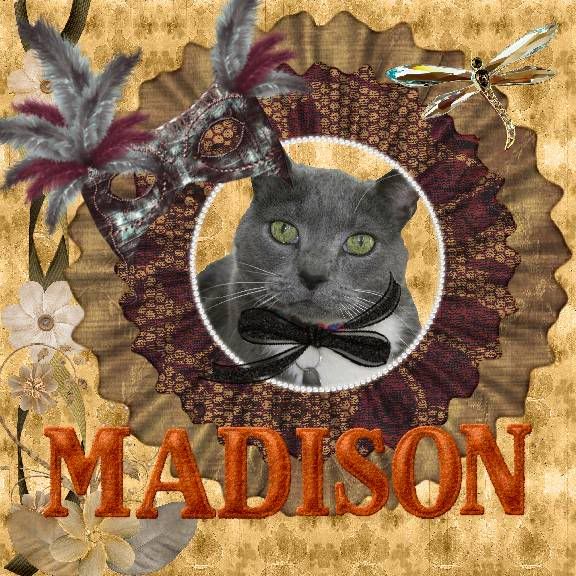 I only changed the gray part of his coat and left the white as it was. I kind of like the raspberry color I ended up with.
The Scraps are from the Autumn Night's kit, except the Dragonfly, which is from the Alabaster Daze kit (and the mask, of course).
The Fall Felt Alpha was from
Miss Crow/Clever Crow Studios
.
5.
Rudy
is
Perfectly Parker
's well behaved mancat brofur, and quite the mancat round the ballroom as well.
I guess dressing in formal black caught everyone off guard! It was obtained by using the glowing edges filter.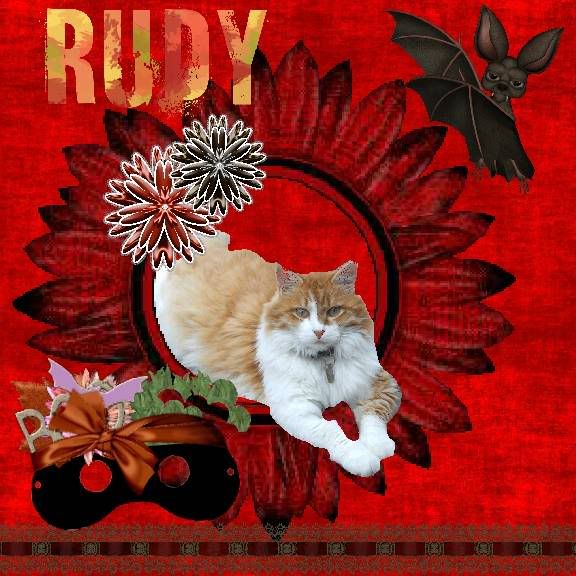 The scraps are from the Nocturnal kit, except for the bat, which is (c) 2008 by
Brandi's Creations
, and the mask, which is from Tracy King (
Florescent Jellybeans
). Of interest on the Nocturnal kit, is that there is a bat in the preview, but it's not included as part of the kit.
The Painted Fall Alpha was a freebie from
Tempusfugit
.