I still have five more tags to go to make Masquarade on Thursday, but I needed a break from the Halloween stuff.
I'm thinking of doing 2 weeks of Autumn, 2 weeks of Thanksgiving, 2 weeks of Winter, and 2 weeks of Christmas (which is much better than six weeks of Halloween ::sigh::)
We got something like 101 ploppers off the
Sweet N Sassy Blog Train
this weekend, so I can cheat a lot on the autumn ones.
The turkey ones just sort of took off on their own. The little word bubbles are a build in on Photosuite but I think you can find packs of them in .png format in various shops.
Speedy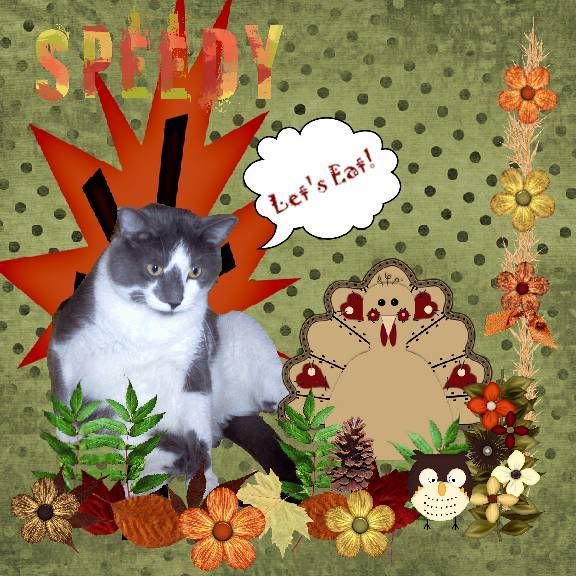 I have two Thanksgiving themed kits -
"Gobble, Gooble"
by
QueenBrat
and
"Let's Give Thanks"
from
Scrappy Lover
, plus some Autumn kits. This tag uses the "Let's Give Thanks" kit. I love the little owl! Heh!
The Fall Painted Alpha was a
freebie
from
Tempusfugit
. I rather liked the effect, so I used it on a several tags so far.
Strider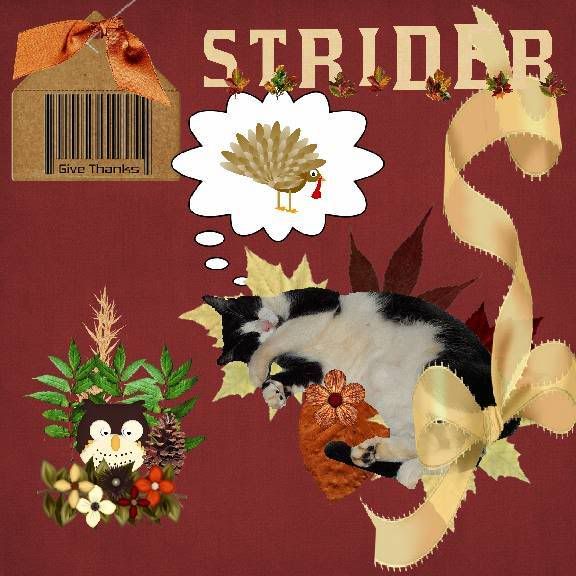 Same kit from Scrappy Lover, same owl. Tim Turkey (Regular) was a freebie from
Scrappile of Digi Style
(Tiffany Kennedy), while the Fall Alpha is (c) 2008 by
Karla Marano
.
Gandalf the Gray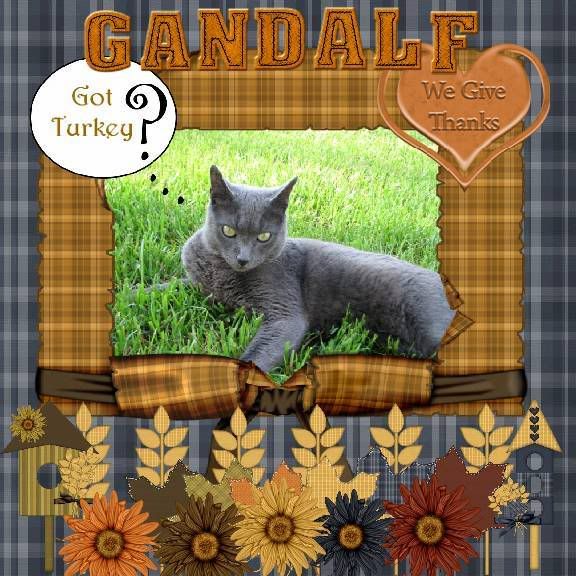 QueenBrat's "Gobble, Gobble" got the nod for this one. There are three different bird houses in the kit, which is kind of unique. It also features a turkey - completed - which is the same designs as the
Turkey Template
she has available as well.
The Stitched Felt Alpha was a recent freebie from
Raspberry Road Designs
.
Kellie the Orange Cat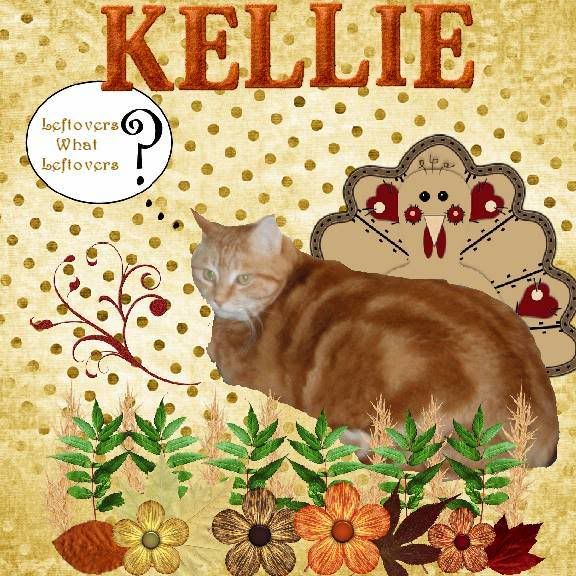 I'm back to the "Let's Give Thanks" kit again for this one. The Felt Alpha is the one I really like from
Miss Crow/Clever Crow Design Studio
.
Sugar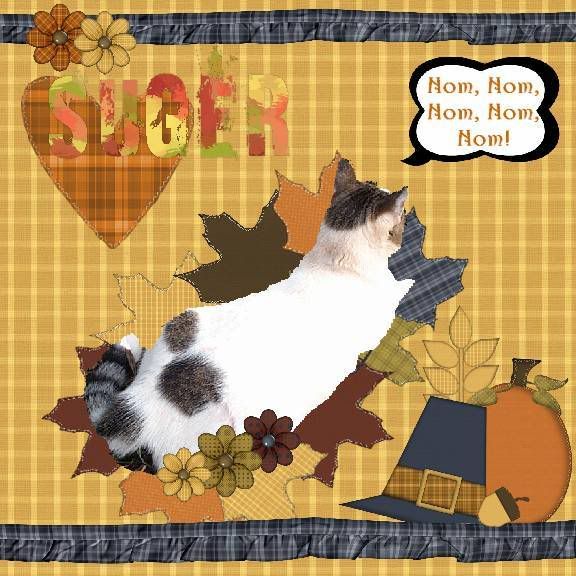 If I ever get stuck on things for the cats or woofies to say, I can always fall back on "Nom, nom, nom..."
This is the "Gobble, Gobble" kit. There's a lady pilgrim's bonnet in there, and I need to try to Photoshop that onto one of the cats.
Again the Painted Fall Alpha is a freebie from Tempusfugit.
Who knows, by the time I get done with Halloween, I might have all of November taken care of as well.
Nah....
Dollar Days at
Taggers Scraps
looks to be the same as last week. Still, there's some stuff I passed on last week I can pick up for this week.